Application Deadline:
November 1st, 2023
---
Interview Notification Deadline:
December 15, 2023
---
Interview Dates:
1/4/24, 1/11/24, 1/18/24
(Kauai School District)
1/3/24, 1/10/24, 1/17/24
(All Other Sites)
---
Program Start Date:
July 16, 2024
Program End Date:
July 15, 2025
---
Contacting HI-PIC:
Questions regarding the application or interview process may be directed to the HI-PIC Program Director, Dr. Michael Taylor, (
mike.taylor@k12.hi.us
)
or the HI-PIC program consultant, Ms. Erin Briley (
ebriley@wiche.edu
).
East Hawaii Family Guidance Center (Hilo, Big Island)
Consortium Sites Menu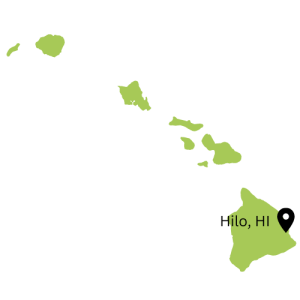 Positions: 1 Full-time Funded Position
General Information
The Child and Adolescent Mental Health Division (CAMHD) is a part of Hawai'i's state-wide Department of Health. The East Hawai'i Family Guidance Center (EHFGC) is one of the 7 Family Guidance Centers (FGCs) under CAMHD, and provides services to children, adolescents, and their families on the East Side of Hawai'i Island including the Hilo and Puna areas. These are both rural areas with a diverse population. The youth served at the EHFGC are generally lower income families who are Medicaid eligible. The youth have been diagnosed with at least one mental health disorder and have shown significant impairment in multiple areas of functioning. Many of the youth have a history of trauma, are in foster placements, have struggled with substance abuse, are involved in the legal system because of criminal activity, and/or have a history of suicidal ideation. With the services offered at the EHFCG, youth and their families can receive care coordination and are eligible for an array of services from outpatient therapy, to acute psychiatric hospitalization.
Please note: Interns need reliable automobile transportation for this placement.
The Internship Experience
Interns placed at EHFGC are engaged in many aspects of the services provided. Interns will conduct several brief intake evaluations each month and will also conduct more comprehensive evaluations throughout the training year. Interns also have the opportunity for various types of therapeutic intervention including family therapy; individual therapy with children, adolescents, and parents; and group therapy. Individual and family therapy may be conducted in the office, in the client's home, or in the community, depending on the needs of the client. The unique nature of this site also allows interns to collaborate with multiple state and private agencies including, but not limited to, Child Welfare Services, the Department of Justice, the Department of Education, in-patient psychiatric units, residential treatment facilities, and the Department of Developmental Disabilities. Collaboration affords trainees the opportunity to participate in individualized education plan (IEP) meetings with schools, attend court, and make recommendations for youth in foster care. Interns will learn to work in collaboration with these agencies and to provide consultation to both other agencies and to coworkers within CAMHD. This small, rural service area also allow for community development, of which interns can be a part. Community projects include improving mental health crisis response, suicide prevention, and improving state agency collaboration and intervention for mental health care of youth. It is possible that interns may also have the opportunity to supervise a masters level practicum student.
Contact Information
Site Director: Mei-Lin Lawson, Psy.D.
Email: meilin.lawson@doh.hawaii.gov
Telephone: 808-765-7722
Mailing Address: 88 Kanoelehua Avenue, Suite B-107, Hilo, HI  96720